Overview

Temporary Power Restoration Device
Auto Transformer restores a missing hot leg (or neutral) in either 120/240V or 120/208V 3-wire services.
15kva and 20kva PowerBacks now shipping in Stainless Steel NEMA4 enclosures with on-board Voltage Indicators for both 120v legs
Why Utility Companies use the PowerBack
Ultra-compact Power Restoration Device.
Provides same day temporary power restoration.
Saves time and money. Now you can quickly restore power and schedule permanent repairs at a later date instead of having to make repairs immediately.
Designed for both overhead 120/240V and underground 120/240V 3-Wire systems.
Stainless Steel Wheeled-Cart is Easy to Move. One person can transport the PowerBack to the job site. No crew or special truck is needed to transport the PowerBack.
Lightweight – Just half the weight of competitor products (see weights below)
No need to bridge or run shunts for residential customers who have lost one phase or the neutral to their home.
Improves public safety by avoiding the need to run temporary cables between customers when a phase is lost.
Increases customer satisfaction with faster service restoration.
Thermal Protected High Efficiency Toroidal Transformer- Located near the primary windings of the transformer is a 105C thermal protector switch wired directly to the Shunt-Trip solenoid in the Circuit breaker. Should the transformer over-heat due to overload or short-circuit, the circuit breaker will trip and shut the unit down.
How it works
The PowerBack provides a quick, convenient source of 240 volt power up to *20,000 VA from one phase and a good neutral or 120v service from two good phases (restoring neutral).
The PowerBack Restores Power to both homes and businesses.
Models:
PB15K-M 125A Breaker – Supports 150A Service – 115lbs
PB20K-M 160A Breaker – Supports 200A Service – 135lbs
PB30K-M 250A Breaker – Supports 320A Service – 220lbs
PB50K 400A Breaker – Supports 400A Service – 290lbs
•
PB30K-M is the only auto transformer spec'd to support 320A homes.
30Kva High Efficiency Toroidal Autotransformer
• 10ft service cable (4/2AWG) w/ Heavy Duty 2-part CL320A Metering Adapter for Lever By-Pass Metering sockets
• 250A Circuit Breaker—125A Rating Continuous Load per Hot Leg
• Thermal Protection (105C) protects transformer against excessive overload
• NEMA 4 All-Weather STEEL enclosure w/ lockable door and welded lifting eye
• 13" x 3.5" Foam-Filled Flat Free tires, roller bearing hubs , stainless steel axle
• Quick reference Installation instructions inside of front door
• 3yr Warrantee (1yr Warrantee on Metering Adapter)
SHOWN ON LEFT, COMPARED TO THE 20KVA – WITHOUT CABLE EXTENSION KIT AND STORAGE BIN
SHOWN WITH CABLE EXTENSION KIT AND STORAGE BIN INSTALLED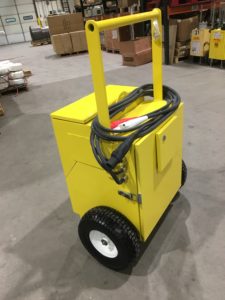 PB50K PowerBack – Multi Home / Pad Transformer Support 400A Breaker – 3 Flying Lead Connections
Optional Qwick-Lok Disconnect Lead Extensions with Loop Connections in a Flood Seal Boot
• 50Kva High Efficiency Toroidal Autotransformer – 400A Breaker
• 2x 120V Hot Leads = 1AWG x 10ft Long
• 1 Neutral Lead = 3/0AWG x 10ft long
• Optional – 5ft. Long Quick-Lock disconnects w/ 1 hole Flood-Seal Connectors
• Thermal Sensor (105C) protects transformer against excessive overload
• NEMA 4 All-Weather enclosure w/ lockable door system, and welded lifting eye
• 13" x 3.5" Foam-Filled Flat Free tires, roller bearing hubs , stainless steel axle
• Quick reference Installation instructions inside of front door
• 3yr Warrantee
| | |
| --- | --- |
| Huntsville Utilities | Alabama |
| ENMAX, Calgary Alberta CA | Alberta, CA |
| Arizona Public Service | Arizona |
| North Little Rock Electric Department | Arkansas |
| City of Azusa, CA | California |
| Pacific Gas & Electric | California |
| SMUD | California |
| City of Gunnison CO | Colorado |
| San Miguel Power Assn, Inc. | Colorado |
| Xcel Energy | Colorado, Minnesota, Wisconsin |
| Delaware Electric Coop | Delaware |
| Delmarva Power & Light CO | Delaware, Maryland, Virginia |
| Florida Power & Light Company | Florida |
| Cobbs EMC | Georgia |
| Georgia Power | Georgia |
| Jackson Electric Membership Corporation | Georgia |
| City Of Weiser, Idaho | Idaho |
| Ameren | Illinois |
| Commonwealth Edison | Illinois |
| Anderson Municipal Light Power AMLP | Indiana |
| Indianapolis Power & Light | Indiana |
| Nipsco | Indiana |
| Indiana Michigan Power Company | Indiana,Michigan |
| Alliant Energy (Interstate Power & Light) | Iowa |
| Mid-American Energy Company | Iowa |
| Traer Municipality Power | Iowa |
| Jackson Energy | Kentucky |
| Choptank Electric | Maryland |
| PECO(EXELON) | Maryland |
| PEPCO | Maryland |
| Eversource Utilities | Mass, Connecticut, New Hampshire |
| DTE Energy | Michigan |
| City Of North St Paul Min | Minnesota |
| Minnesota Power | Minnesota |
| Alexandria Power and Light | Minnesota |
| Mississippi County Electric Cooperative | Mississippi |
| Co-Mo Electric Coop, Inc. | Missouri |
| Northwestern Energy LLC | Montana |
| Jersey Central Power and Light | New Jersey |
| Con Edison | New York |
| New York State Electric & Gas Corporation | New York |
| PSE&G | New York, New Jersey |
| Edgecombe-Martin EMC | North Carolina |
| American Electric Power | Ohio, Michigan, Indiana |
| Salem Electric | Oregon |
| City Of Ashland OR | Oregon |
| Consumer Power Inc. | Oregon |
| Emerald Peoples Utility District | Oregon |
| Portland General Electric | Oregon |
| Northwest Rural Electric Cooperative  | Pennsylvania |
| PPL Electric | Pennsylvania |
| Aiken Electric Co-Op | South Carolina |
| Blue Ridge Electric Cooperative | South Carolina |
| South Carolina Gas & Electric | South Carolina |
| Cleveland Utilities | Tennessee |
| EPB | Tennessee |
| Volunteer Energy Cooperative | Tennessee |
| Price City Utilities | Utah |
| Community Electric Cooperative | Virginia |
| Dominion Virginia Power | Virginia |
| Southside Electric Cooperative | Virginia |
| Appalachian Power Company | Virginia |
| Avista Utilities Corp | Washington |
| Franklin County PUD | Washington |
| Kattitas PUD | Washington |
| Peninsula Light Company WA | Washington |
| Puget Sound Energy | Washington |
| Tacoma Power Utilities | Washington |
| City of Stoughton Utilities | Wisconsin |
| Northwestern Wisconsin Electric Company | Wisconsin |